About the Forum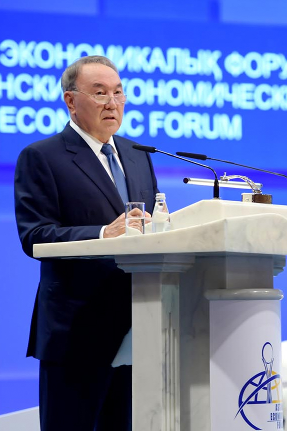 About the Forum
The AEF and its activities are distinguished by the active participation of government and business figures from more than 80 countries.
As the world economy undergoes a number of changes, the AEF serves as a platform where these figures consider the major global challenges of the day and brainstorm on solutions to address such challenges.
Over the past nine years, numerous business and government leaders have tackled such themes as
"Modern Aspects of Economic Development under the Conditions of Globalization", "Economic Security of Eurasia in the System of Global Risks", "Ensuring Sustainable Economic Growth in Post-Crisis Period", "New decade: Challenges and Perspectives", "Global Economic Transformation: Challenges and Perspectives of Development", "Ensuring Balanced Economic Growth in the G-GLOBAL Format", "Risk management in the era of changes in the format of G-Global" and "Infrastructure: Driver of Sustainable Economic Growth", "The New Economic Reality: Diversification, Innovation and Knowledge Economy."
This year, AEF participants make their way to Astana to address the challenges concerning "New energy - New Economy".
In the framework of forums held in the past, world leaders have expressed their views and offered practical propositions concerning economic strengthening, not only for Central Asia and the post-Soviet space, but also for the world.
The Astana Economic Forum is an annual event held in Astana, the capital of the Republic of Kazakhstan.
Which brings together representatives from the world's economic community, current and former heads of states, Nobel Prize laureates, outstanding figures from the scientific world, and businessmen.
The Forum is best known as a platform for international dialogue that enables constructive discussion of economic development issues concerning both Central Asia and the entire world in relation to changes witnessed in the global economy.